Technical Data:
Parameters(25°C) Model
SCB13-
I
V
I
V
I
V
I
V
300A
400A
500A
600A
Nominal Rms Current (Ipn)
±300AT
±400AT
±500AT
±600AT
Measuring Range (Ip)
600AT
700AT
800AT
900AT
Turns Ratio
1:3000
1:4000
1:5000
1:5000
Road Resistance Rmax
40KΩ
50KΩ
75KΩ
75Ω
Output
±100mA
±4V
±100mA
±4V
±100mA
±4V
±100mA
±4V
Measuring Resistance
20~25Ω
≥10KΩ
20~25Ω
≥10KΩ
20~25Ω
≥10KΩ
20~25Ω
≥10KΩ
Working voltage
DC ±15V (±5%)
Accuracy @ Ta=25°C
±0.5% FS
Linearity @ Ta=25°C
±1% FS
Offset Current/Voltage
<±0.2mA <±10mV
Offset temperature characteristics
< ±0.02%/°C
Thermal drift of Vo
<±1mV/°C (If=0)
Bandwidth
DC ~150kHz
Response time
< 1uS
Hysteresis offset
I: < 0.5mA V: <20mV (if=F.S. 0<--->Nominal RMS Current)
Withstand voltage
3kVrms/50Hz/min
Current consumption
13mA (No-load current) + output current (secondary)
Operating temperature
-20~+80 °C
Storage temperature
-40~+85 °C
Weight & Package:
230g per unit/ 45 unit per box
Dimension(mm):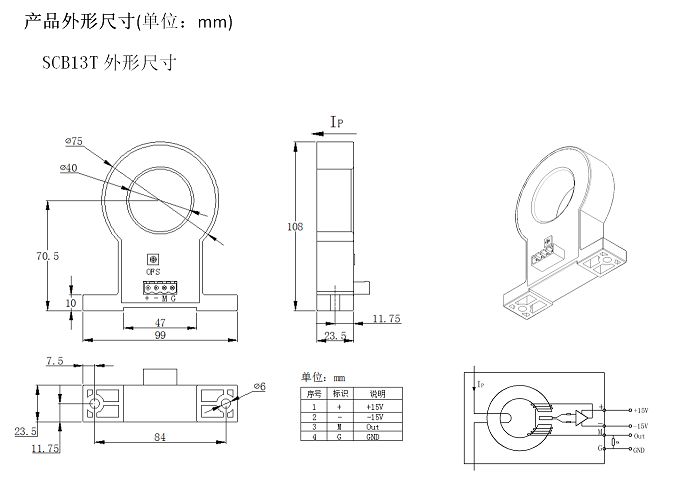 Notes:
1. Size error: ±1mm;
2. Primary aperture: φ40mm;
3. Fastening hole: φ6mm*2;
4. B13T output terminal: 2EDGVC-5.08-4P;
5. The IP indication direction is the positive direction of the current, and the OFS is the zero adjustment;
6. Incorrect wiring may cause damage to the sensor.

Instructions
1. SCB13 Series is divided into voltage output and current output, the current output does not have GIN regulation.
2. Round perforation, mainly measure cable conductor current.
3. Galvanic isolation between primary and secondary circuit provides accurate electronic measurement of DC, AC or pulse currents.
4. Advantages: Wide bandwidth, excellent accuracy, good linearity and fast response.
Caution: Incorrect wiring may damage the sensor