Technical Data:
Parameters(25°C) Model
SCK11-
50A
100A
200A
300A
Nominal Rms Current (Ipn)
±50AT
±100AT
±200AT
±600AT
Measuring Range (Ip)
150AT
300AT
600AT
750AT
Load resistance Rmax
≥10kΩ
Output Voltage
±4V or ±5V
Working voltage
DC ±12V or ±15V(±5%)
Accuracy @ Ta=25°C
±1% FS
Linearity @ Ta=25°C
±1% FS
Withstand voltage
2.5kVrms/50Hz/min
Offset Voltage
< ±30mV
< ±15mV
Offset temperature characteristics
< ±0.08%/°C
< ±0.05%/°C
Thermal drift of Vo
< ±2mV/°C
< ±1mV/°C (If=0)
Hysteresis offset
< ±30mV
< ±20mV (if=F.S. 0<-->Nominal RMS Current)
Response time
< 5μs
Current consumption
<±15mA
Operating temperature
-20~+80 °C
Storage temperature
-40~+85 °C
Dimension(mm):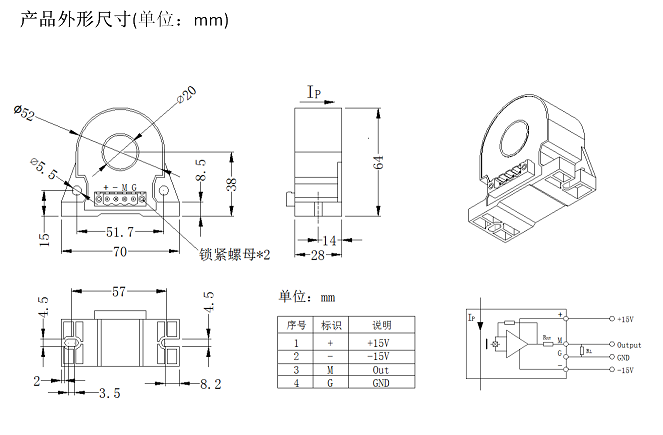 Instructions
1. Size error: ±1mm;
2. Primary aperture: φ20mm;
3. Fastening hole: φ4.5mm*2;
4. Output terminal: 2EDGIV-5.08-4P;
Mating plug: 2EDGIK-5.08-4P;
5. The IP indication direction is the positive direction of the current;
6. The temperature of the primary conductor shall not exceed 105°C;
7. Incorrect wiring may cause damage to the sensor.